Monthly Archives:
April 2011
Make your own HERE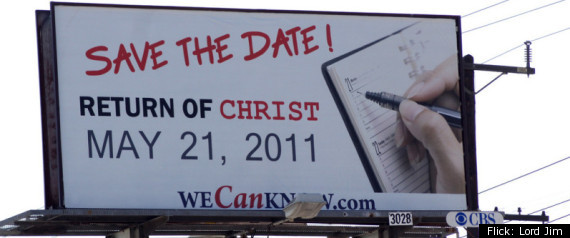 By Kathleen O'Brien
Religion News Service
(RNS) Give these billboards credit: They don't hedge their bet.
Judgment Day is coming May 21, 2011 — not sometime this decade, not sometime this year, but precisely on May 21.
The hundreds of billboards warning unrepentant commuters of their impending doom are courtesy of a California radio station led by 89-year-old Harold Camping, who initially predicted the world would end in 1994.
In New Jersey, about 30 believers paid to erect the signs in hopes of warning and saving their neighbors, said Bob James, a Morristown electrical engineer who organized the grassroots effort.
"Seven billion people are facing their death! What else could I do?" said James, who views the billboards as a message of hope. "When you have this information, with my love for my fellow man, I wanted to tell people."
Warnings of "end times" are cropping up all over. Along Route 15 in Rockaway Township, a handmade sign has a litany of upheaval that could double as a CNN news crawl: earthquakes, tsunamis and war.
"Pray! Pray! Get right. The signs of his coming are here," urges the anonymous prophesy.
Throw in buzz about the Mayan calendar's purported lights-out date of 2012 and it makes for jittery times.
"People love to speculate about the end of the world. It's human nature to want to know when Jesus is returning," said Barbara Rossing, author of The Rapture Exposed and an ordained pastor at the Lutheran School of Theology in Chicago. "But Christ specifically admonishes us, 'Don't try to figure it out."'
She finds Camping's views to be at odds with even those described in the best-selling Left Behind books about the Rapture, when some Christians believe they will be swept up into heaven as those left behind endure years of war and hardship.
"He has some very strange teachings on his website," she said. "This is very odd thinking."
Many May 21 believers say the Bible contains clues that brook no argument. God tells Noah the world will end in seven days; the Bible also equates a day to 1,000 years. The date of the flood has been set at 4990 B.C., so adding 7,000 years plus one for the missing year "0″
produces the year 2011. Translating a biblical reference to a month and day, from the Hebrew calendar to the Gregorian, results in May 21.
"It's no other date. It's only that date," said Michael Garcia, special projects coordinator at Camping's Family Radio enterprise.
The gathering up of saved souls will begin, followed by five months of chaos and tribulation that will serve as a spiritual going-out-of-business sale. It will culminate with the end of the world on Oct. 21.
That is daunting to Anthony Hernandez, a 44-year-old technology worker from Chester Township who runs a monthly Bible study class in his home. Although he devotes himself to proclaiming the message of the May 21 date, he knows that doesn't guarantee his salvation.
"If I find myself here May 22, then I'll be unsaved, because all the believers will be taken," he said. Asked if that scared him, the father of seven answers, "It is scary. I don't know if my children are saved."
He's made no contingency plans for life after May 21, neither booking a summer vacation with relatives, nor stocking up on provisions.
"I've done nothing, because if I'm lost, I'm lost. It's over," he said.
Although the May 21 prediction is widely dismissed, even mocked, Camping's followers see validation in that reaction. After all, Garcia said, Noah met nothing but skepticism when building his ark.
"It probably wasn't even raining at that time," said Garcia, a 39-year-old father of six.
"What was the attitude of everybody else? They scoffed — and they died," said James, who also sees inspiration in Noah's tale. "So scoffers don't bother me."
Nor is the refusal of mainstream churches to accept their prediction any cause for doubt, for Camping's followers believe most churches are now corrupt.
Family Radio has placed about 1,000 billboards nationally. Garcia declined to disclose the cost, nor how much contributors gave in total, but individual donations ranged from $100 to $5,000.
End-of-the-world predictions are nothing new, said Rossing, who specializes in eschatology, or the branch of theology examining the end of the world.
Baptist preacher William Miller had thousands of followers — called Adventists — convinced the date would be Oct. 22, 1844. Many climbed on their roofs in anticipation of their imminent ascension. When that didn't happen, the day became known as the Great Disappointment.
Belief in the discovery of secret information is alluring, Rossing said.
"It's like the decoder ring you found in your cereal box," she said. "You can be the first on your block to decode the Bible."
Kathleen O'Brien writes for The Star-Ledger of Newark, N.J.

Sounds pretty scary. Looks like there is only one thing left for those of us that won't be raptured to do….throw a party!
CNCAH President Geri Weaver recently participated in 2 podcasts courtesy of Cape Reason. 
Cape Reason: Episode 2
This is the first of two episodes, back to back in April!
In this episode we have an interview with Geri Weaver, the President of the Central North Carolina Atheists and Humanists.
Cape Reason: Episode 3
This week we devote an hour interview to Atheist Hip Hop artist Greydon Square, who will be appearing at the Rapture After Party and headlining the Rap Up concert on May 21st and May 22nd in Fayetteville, North Carolina.
Guest hosting this month's interview is Geri Weaver, President of the Central North Carolina Atheists and Humanists.
From the Triangle Freethought Society:
The Triangle Freethought Society will be hosting events for the National Day of Reason on the State Capitol grounds In Raleigh, NC on Thursday, May 5th, from 11:45am until 1:15pm. Please join us! We have a great program, with nationally recognized speakers -
Roy Speckhardt is executive director of the American Humanist Association where he actively promotes the humanist perspective on progressive political issues. He's appeared on CNN Headline News, Fox News, numerous national radio shows, and has spoken to dozens of local humanist groups across the country. He also serves as a board member of the Humanist Institute and the United Coalition of Reason and as an advisory board member of the Secular Student Alliance. www.americanhumanist.org
Sean Faircloth is the executive director for the Secular Coalition for America, an advocacy organization whose purpose is to amplify the diverse and growing voice of the non-theistic community in the United States. www.secular.org
Cecil Bothwell was elected on November 3, 2009, to the Asheville, NC city council. Following the election, opponents of Bothwell challenged his election because the North Carolina constitution does not allow for atheists to hold public office in the state. He was recently voted Most Courageous Elected Official of 2010 by American Atheists. cecilbothwell.wordpress.com
Todd Stiefel is a secular humanist, an atheist and full-time freethought activist. He is the founder and president of the Stiefel Freethought Foundation. Todd serves as the Vice President of the Secular Coalition for America and is the co-host of the Humanist Hour, the official podcast of the American Humanist Association. His mission is to gain respect for freethinkers and ensure the complete separation of church and state. Todd envisions a world where government favors liberty over dogma and freethinkers are overt, united and influential. www.stiefelfreethoughtfoundation.org
 
Why a National Day of Reason?
From www.nationaldayofreason.org -
"This observance is held in parallel with the National Day of Prayer, on the first Thursday in May each year. The goal of this effort is to celebrate reason—a concept all Americans can support—and to raise public awareness about the persistent threat to religious liberty posed by government intrusion into the private sphere of worship."
The National Day of Prayer was signed into law in 1952 by Harry S Truman. On April 15, 2010, U.S. District Court Judge Barbara B. Crabb wrote of the 1952 statute creating the National Day of Prayer that its "sole purpose is to encourage all citizens to engage in prayer, an inherently religious exercise that serves no secular function."
In spite of the ruling, last year all fifty governors issued proclamations urging Americans to pray on this day and President Obama himself declared the intent to observe it since the injunction against it would not go into effect until the appeals process has been completed.
The main purpose of the Triangle Freethought Society is to stand up for the separation of church and state. The National Day of Prayer is a clear violation of this separation.
Please join us on Thursday, May 5 to show your support!
Why Do We Oppose the National Day of Prayer?
The National Day of Prayer violates the First Amendment of the US Constitution because it asks federal and local government entities to set aside tax dollar supported time and space to engage in religious ceremonies. This results in unconstitutional governmental support of religion over no religion.
Led by fundamentalist Christian Shirley Dobson, the National Day of Prayer Task Force www.nationaldayofprayer.org promoted thousands of events specifically in accordance with its Judeo-Christian beliefs and focused on a small segment of the Protestant Christianity. Since they hold their events on the government sponsored National Day of Prayer, government officials of all levels participate in these events as if they were government endorsed.
The Supreme Court has made it clear (and most Americans agree) that state sponsored prayer in school is inappropriately exclusionary. Why is a nationally sponsored day of prayer any more inclusive? This national effort geared toward a small slice of the religious spectrum is clearly outside the boundaries of proper governmental reach.
The National Day of Prayer makes those who don't pray feel like second-class citizens. Why set aside a national day that needlessly excludes?
Religious Americans who wish to pray don't need to be reminded by government to do so, so there's no reason to limit prayer to a single day for those who chose to practice their chosen faith in that way. Government has no business saying when or what Americans should do when and if they engage in religious practice.
Government also violates the First Amendment with the National Day of Prayer by acting to promote a certain manifestation of religion. It emphasizes only one form of religious practice, and therefore discriminates against the many others, including alms giving, social justice, fasting, peace activism and meditation.
Many traditional religious groups encourage adherents not to make their prayer public, so this state sponsored public display of prayer is a direct affront to such teachings and disrespects countless religious Americans. Many Americans faithfully follow the words from the Sermon on the Mount, "When you pray don't do it loudly in the synagogue or on street corners so that everyone can see you and think you are really good and holy."
Whenever government involves itself in religious practice as is done with the National Day of Prayer it taints that religious practice by reducing the co-opted religion's effectiveness to protest government action, and also (in an infeasible effort to broaden the practice's appeal) government inappropriately dilutes the messages of faithful adherents.
Freedom of expression and worship, including the opportunity to pray or not pray as we wish, are already present without government endorsement. There is no need to set-aside a public day for prayer.
CLICK HERE to register